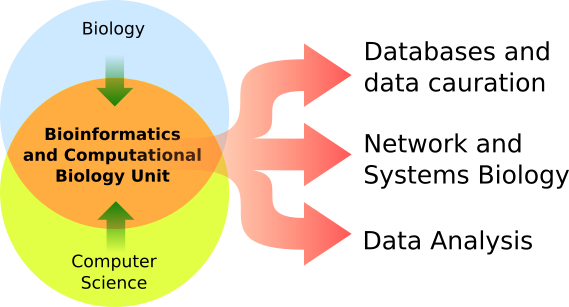 Welcome to the website of the
Bioinformatics and Computational Biology Unit
of the Molecular Genetics Laboratory led by prof. Gianni Cesareni. We are people with different backgrounds: biology, computer science, physics, who came together in a unit focused on different aspects of bioinformatics and computational biology.
We work in close contact with experimental biologists to
combine computational approaches with wet lab experiments
. Our research is focused on
Network and Systems Biology, Data Analysis, Data Curation and Storage
. We process and analyze biological results by making algorithms and models. We performe statistical analysis on high-throughput data, Image Analysis and manual biological data curation continuing the
MINT
legacy with new services such as
mentha
and
SIGNOR
.
Our philosophy is that
bioinformatics should not be an end in itself
, but rather be a bridge to connect classical biology with computational approaches.
Our Lab is located at the University of Tor Vergata in Rome, Italy.
(Leggi in italiano:

)